Post-Secondary Education Consulting Services
For some, the world beyond high school presents a seamless transition to the next step in their academic journey.  For others, it is a chance to enter the world of work to pursue the career of their dreams.  Many high school students, however, remain unsure as to where their future "pathway" may take them.  Edvice4you can provide students with the knowledge and tools to make informed decisions as to which post-secondary destination is the right for them.  University, college, apprenticeship, work, "victory lap", or gap year?  No matter the choice, let edvice4you help you navigate the pathway to your future.
Proper guidance may save you time, money and confusion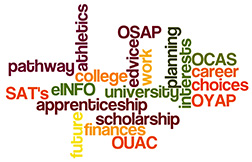 Edvice4you specializes in providing decision-making tools to students who are finishing high school and exploring the post-secondary opportunities available to them. Whether students are undecided about which future "pathway" they are interested in, or they have a destination in mind and are unsure of how to get there, edvice4you can provide guidance and services to empower students to make a smooth transition.
Post-secondary education can be a very expensive undertaking once students account for tuition, textbooks, school fees, living arrangements, and other costs. Edvice4you can also impart knowledge on financing options and applications, such as OSAP, scholarships, and bursaries.
With so many application procedures and deadlines, it is very easy to get confused! Edvice4you can assist students in application processes throughout Canada and internationally, and also help to make sure students will not miss critical deadlines.